Seventh-Eleven Division Background Page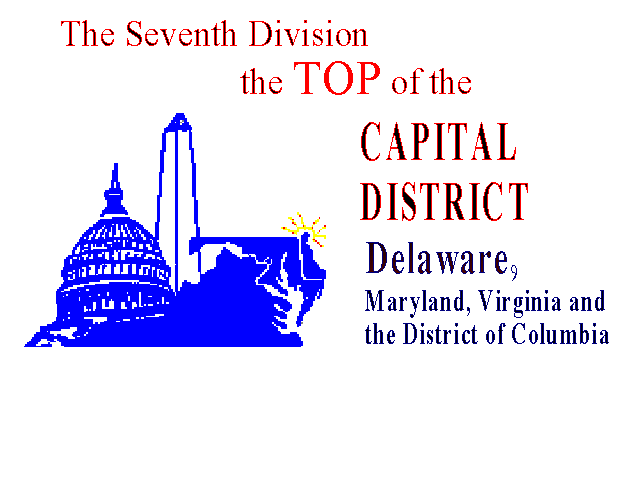 Maintained by Past Lt. Governor Van D. Olmstead, Jr. CFP
---
Content: This page contains detailed information about our division and the date, time and location of its regularly schedule meeting to assist you. If you wish to contact us, please feel free to email us at the address listed below.
Description:
Created by the combination of two formerly separated divisions (Divisions Seven and Eleven), Divison Seven-Eleven has no relationship to the convenience store, although we have been known to patronize 7-11s to buy stuff for meetings and hospitality suites.
The Northern Division Seven-Eleven regular scheduled meetings are listed below.
Wilmington, each Wednesday at 12:10 P.M.

since 1918 the club has met at Hotel DuPont, Eleventh and Market Streets, Wilmington, DE 19801

Dover, each Wednesday at 6:30 P.M .

Sheraton Hotel, Route 13, Dover, DE 19901

Brandywine Valley, each Thursday at 7:30 A.M.

Foulkstone Plaza Cafeteria, Building 1413 on Foulk Road -- across from Brandywine High School

Watch this one folk, they move it around a bit. Best check before you drop in.

Elkton, each Thursday at 7:00 P.M.

Bentley's, U.S.Route 40, Elkton, MD 21921
For more than a quarter century the Seventh Division supported area youth and the Special Olympics with a running event.

Seventh Division clubs have supported the UNICEF/Kiwanis Iodine Deficiency Disorder gift wrap project in the Christiana Mall, a program which has raised over $120,000. Internationally, Kiwanians have shown their dedication to the youth of the world by raising the money by the year 2000 to eliminate the scourge of Iodine Deficiency Disorder .

Clubs in our division honor the County Police officer of the year, the City of Wilmington Police officer of the calendar quarter and of the year.

We count the sponsorship of youth as one of our major achievements to which we remain committed through the support of Newark , McKean, A.I. DuPont, Delcastle, Brandwine & Ursaline Academy Delaware, Wilmington High School, North East & Elkton, Maryland High School Key Clubs and Builders Clubs in Claymont Delaware and Cherry Hill, Rising Sun and Northeast Maryland Middle Schools.

As our first true Seven-Eleven Division Project, in cooperation with Division Eleven (Southern Delaware and Northeastern Maryland) the Seventh Division organized the state wide Lead Poisoning Prevention Week, recognized by Governor Thomas Carper of Delaware. The two divisions conducted a state-wide youth poster contest to help bring awareness to the leading cause of preventable mental retardation in the United States -- the risk of lead poisoning.

The division organized a major fund raiser for Meals on Wheels and volunteers from several clubs serve the program as delivery persons on weekdays and especially holidays when business -- the customary source for such volunteers -- are unavailable.

If you are interested in learning more about our organization, click Membership Info Request below.

Division Home Page / Membership Info Request / Link to Clubs /
---
Your input and comments on how to enhance our web site efforts are welcomed and appreciated.

---

© Copyright 1995 Kiwanis Club of Palo Alto, CA.