If you're looking for my little grandchildren go here
On the other hand, if you'd like to see my slightly larger grandchildren go here.
But if you're looking for the reason my grandchildren are alive at all go here!

How could I display my family without my love and me together at the beginning. So here we are!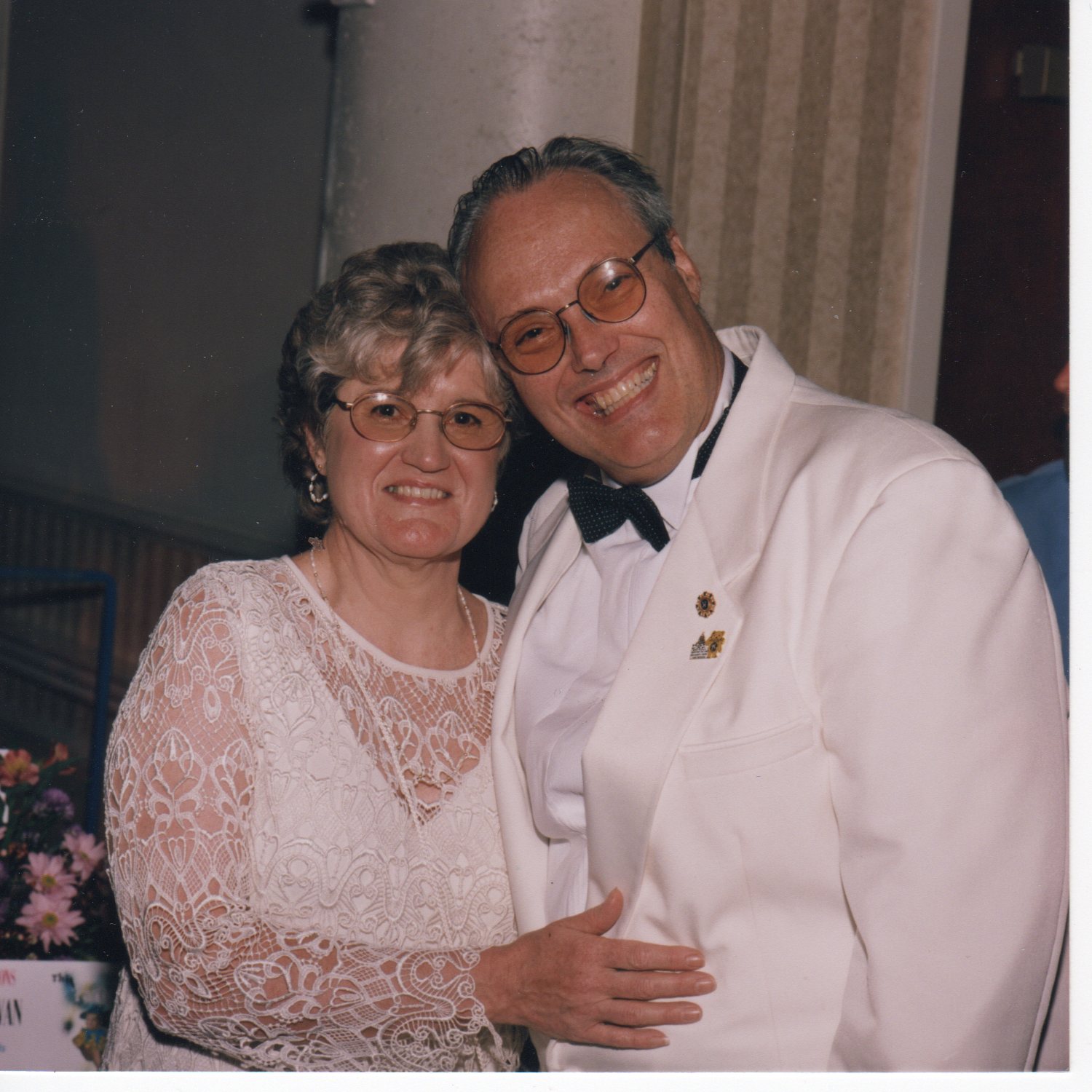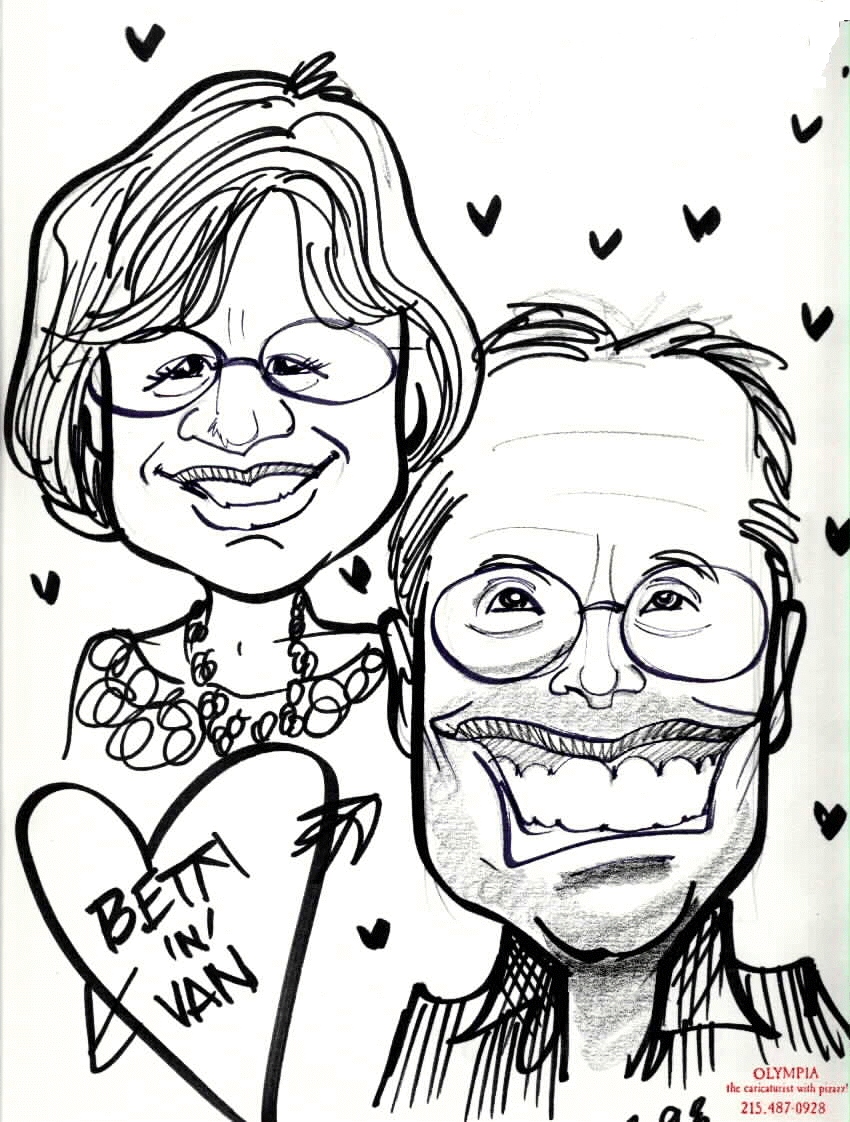 Van Dregge Olmstead, III
born April 11, 1983 in Wilmington, Delaware. His mommy (Gwen Olmstead) thinks he can do no wrong. She's only a little bit incorrect. This kid is SMART! The folk at Illinois Institute of Technology invited him to come there and get smarter. He is not only very bright, he has a great sense of humor. He shares his dad's fatal attraction to the computer, although his 'puter is faster, more modern and has a bigger monitor than his dad's--but then he didn't have to pay for all of it. He's was Illinois Institute studying to be a computer engineer. I haven't heard a word for him for a couple of years. I'm hoping he's well but I have no way of finding out.
Victoria Gwenith Olmstead
Vicki was born October 10, 1986 in Wilmington, Delaware. She got her middle name from her mommy who ballroom danced though every minute of the nine month gestation period. Maybe that's why Vicki is so personable. She is not only very bright and very attractive, she is extremely considerate of the needs and feelings of others. Vicki could make a friend anywhere at any time! She was a high school honor student and while there did theater, basketball, softball, rock and earned ever-higher class belts in ATA Karate. She continued her scholarly ways by doing the same thing at the University of Delaware. She took her Bachelor of Science degree to Dover AR where she earned her Masters in Wildlife Managment. She sent me an email a few Father's Days ago and asked that I replace the poem I'd had here for years with something that reflects her current skill. She gave me a link but there were so many to chose from I couldn't pick. So the only thing to do was to give you the link. She said I could post the link. Go check out Vicki's art for yourself! I don't know if it still is where her thoughts like, since the latest comment from a reader is 5 years old? http://elfwood.lysator.liu.se/libr/v/i/victory14/victory14.html And by the way, this lady is really bugs! Like she studies them. Here she is among the fauna in Costa Rica for Winterim. Click on it and it blows up. (Used by permission)

William Fredericks Olmstead
That's my Boy!
William happened on the scene on March 11, 1990 at Lankenau Hospital on the Philadelphia Main Line. He was precocious from the very beginning and he has never lost that nature. He showed "persistence of objective" from the moment he could move his body. William is the master of cellophane tape, glue and object arrangement. Give him enough time and he could reconnect all the King's Men AND Humpty Dumpty. William has an infectious smile and attitude. He is so SHARP! What a memory! Don't make William a promise to get him off your back; you are guaranteed to be reminded. He is thoughtful and considerate, polite and orderly as well as fair and honorable. And he's only been working on this for 19 years! Will loves baseball and the Phillies on most days. He reconsiders when they let him down. Will is studying hitting and works pretty hard at it. His hitting instructor started his own major league career with a grand slam home run at his first at bat for the Boston Red Sox. Will and I are hoping he's good at sharing his hitting knowledge. Will is also teaching his dad how to keep his temper under control by showing dad what it looks like to other people. Dad is going to try to teach him the same self-control after dad learns it. By the way, the picture is one taken at the start of the 2004 Little League Season. Will was drafted by the Al's Sporting Goods team of Brandywine. It is probably a bit ahead of events but he sure looks good in it. He lettered in baseball at Brandywine High School his last year and played JV and Varsity basketball. Managed to stay on the Dean's List while doing lots of practices. Now he's a graduate of the University of Delaware where he carried on the dean's list tradition he established.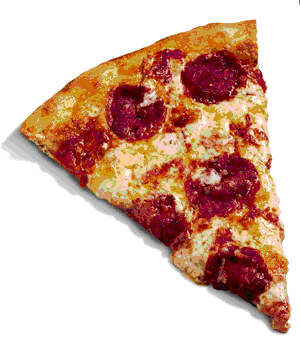 And all my kids love to munch Grotto's Pizza!
Gayle
This is my late sister. She was younger than I. She would like you to believe she was much younger. I'll never tell! Gayle was quick, imaginative, witty and intelligent. Her sense of humor could be strange. Don't you dare say she learned it from me, no matter how strong the evidence might be! She was called to another realm in January of 2007. We all miss her

Christyn Beryl Olmstead
Got another sister. Yep, this is she, shown here with her husband Jeff. Christyn was lost for a time. Estranged. (No, not "Eh...Strange!") She married some bum and moved away. Fortunately, she discovered the error, ditched the bum and returned. That makes me happy, although it confuses things at the computer stores. You know, when they put "Olmstead" in the cash register at check out I am not used to having some other byte head with my last name. (She suffers from this digital malady. ) She is very bright with an incredible sense of humor. She shared a birthday with my father for many years. When she lived at home, as a matter of fact, from the time she was born until Dad died the family baked two cakes. Now she owns the birthday all to herself. It's fitting she was born on dad's birthday. She seems to have all his positive characteristics and very few of his negative ones. The only thing I think she inherited that does her ill is her unwillingness to give herself enough credit for all she has accomplished in life. One of her greatest accomplishments is a work in progress. His name is Josh and a not-too-old picture follows.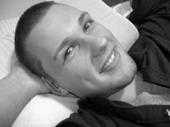 Cheryl Frances Olmstead McVickar
My youngest sister is Cheryl Francis Olmstead McVickar. Smart and lucky. Seems like she found the right guy. She and husband Jamie live with their children in Chester Springs, PA
Now there's a picture of her but it's but it's incomplete, since her family is her life. She proved that. This is a lady who can sell anything to anybody but gave up a successful career in sales because lots of people can sell to her clients but only one person can be the mother of her children. That may not be the right choice for some people but it sure is appropriate for those who feel as Cheryl does. The proof is here for your viewing pleasure: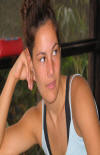 This is Elissa. She's a doll. Don't get too excited if you think she's cute. She has a husband and I don't think he's got a really good sense of humor about sharing.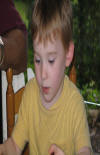 Trevor is my youngest nephew. I've got great blackmail picture for when he's got a girlfriend over in a number of years!

And this is Evelyn. What a sweetie! I said she'd probably shoot me for using a poolside picture but she is a photographer on her own and supplied me with this "Evelyn at the Bat!" We don't know if she connected. We do know she learned the law of unintended consequences.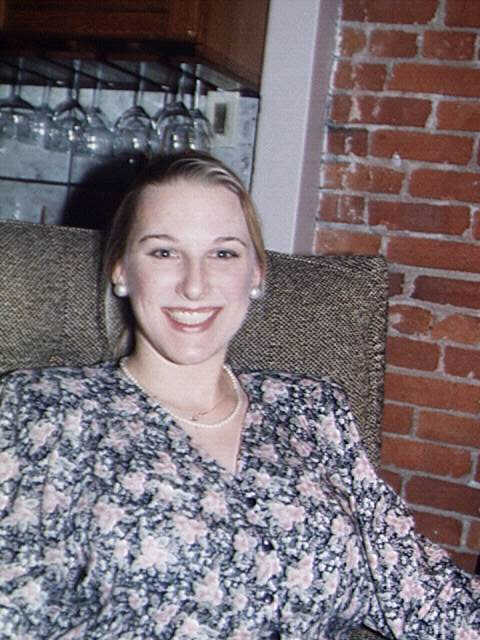 Susan Bauer
Susan is Gayle's prodigal daughter. Long lost, long loved and recently found, Susan is a joy to be around. This picture was taken at my house on Thanksgiving, proving once again how appropriate that holiday is.

Jan Eric Olmstead

This is my brother Jan, the only one of us who holds down the ancestral fort in Michigan. Our folks were born there and so was I. The company my dad retired from saw to it we visited it by transferring him back there several times during his career. Jan works for GM and is a champion beer drinker as well as a quick wit.